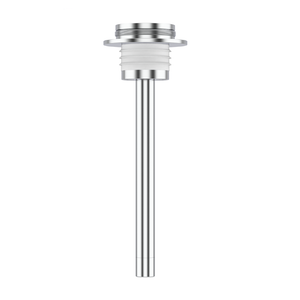 With the new MIG KIT ADAPTER made of the best V2A stainless steel, you can adapt any of the MIG 3.0, MIG TRADI, TRADI MINI, AIRFORCE L and AIRFORCE M bases to the hookahs from our PREMIUM and X-SERIES category. So you can experience the unique smoke feeling including the closed chamber system of our MIG TRADI and AIRFORCE series on your MIG PREMIUM or X-SERIES shisha.
Simply unscrew the old base, screw on the MIG KIT adapter and align it with the counter ring according to the openings in your base. That's it!

The scope of delivery includes a suitable rubber seal and a downstem extension with which you can determine your optimal downstem length depending on the base size and water level.

Material:
V2A stainless steel and polycarbonate (rubber seal)
Downstem length: without downstem extension 12.5 cm // incl. downstem extension 15 cm